Product Description
Herbal Powder Extract Natural Detox Foot Patch
I have recently been receiving many concerned e-mails and phone calls regarding the effectiveness of Foot Detox Pads. Some reports are incorrectly stating that all detox foot pads are a scam. I feel it is my duty to share with everyone my thoughts on Foot Detox Pads.
The Foot Detox Pads has been researching the bamboo for 26 years, after the 26 year`s researching, they discovered an amazing fact: A mature bamboo will absorb 3-4 tons of water per day from the underground. The Foot Detox Pads has the super-absorb ability. Put the high quality bamboo under high temperature, after several days, the researchers got the bamboo vinegar liquid, which also have the super-absorb ability. But the bamboo vinegar liquid can not be delivered and used conveniently.
Our main product includes Foot patch ,Slimming Patch ,Pain relief Patch , Herbal patch , medical dressing , Exfoliating Foot Mask , Eyelash Gel Patches , Mosquito Repellent Patch,Skin Peeling Foot Mask,Foot Detox Pads and so on !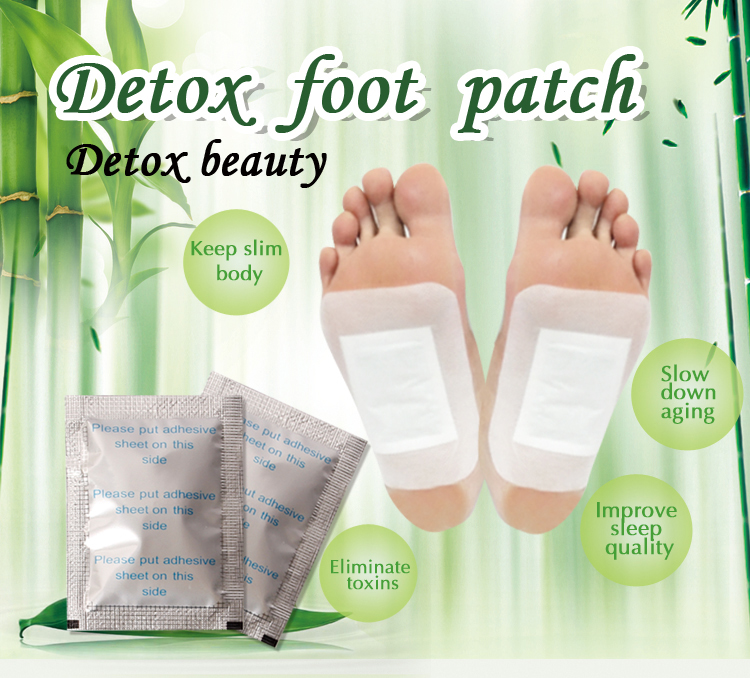 Active ingredient:
Wood vinegar, bamboo vinegar, carapace, tourmaline, vitamin C, plant powder, cornstarch.
The main ingredient of detox foot patch is thebamboo vinegar powder, which was distilled by bamboo vinegar liquid by using modern high technology. The detox foot patch can dispelling toxins,clear odour, Bamboo vinegar extract`s cell is tiny, it has high penetration,can remove dirty things and toxin deeply in human body.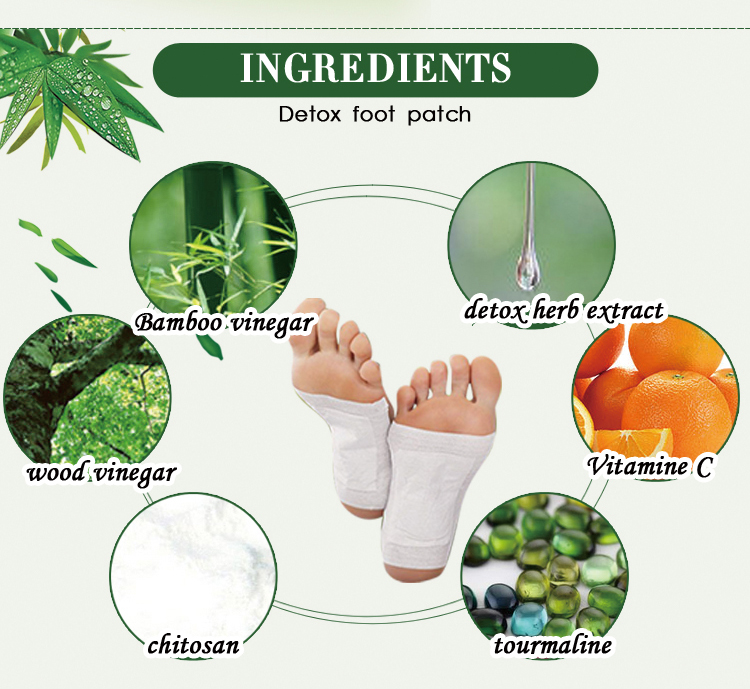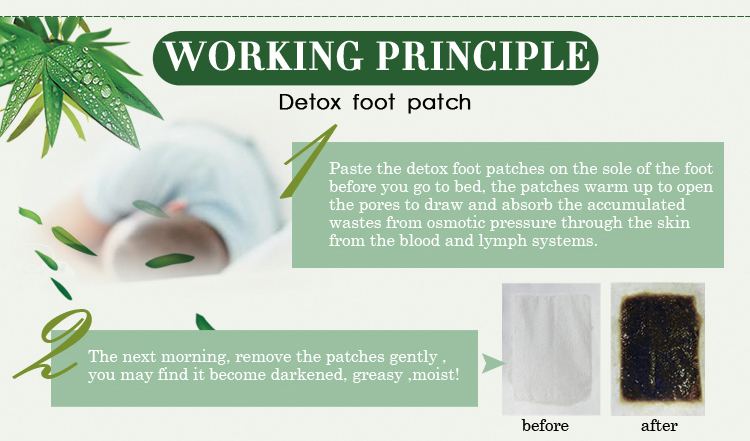 Notice for use:
1). For external use only, use only as directed;
2). Please keep your feet dry when using;
3). Patches which are not used should be sealed in the plastic bag;
4). Avoid contact with eyes and mucous membranes;
5). Do not apply to wounds or damaged skin;
6). If pregnant or breast-feeding, ask a health professional before use;
7). Stop using and ask doctor if excessive redness or irritation is present;
8). Store in a cool and dry place, away from direct sunlight and high temperature.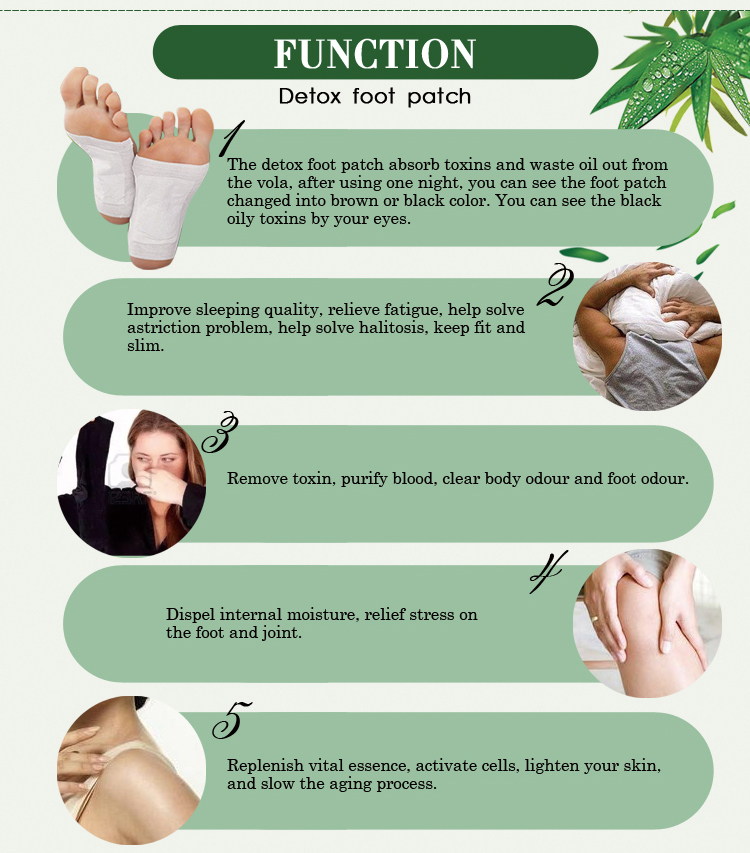 How to use?
1). Detox foot patch, used 100% natural herbs. When you apply the detox foot patch onto the acupuncture points which on the sole of foot, it will speed up the moves of the intestinal, enhance the metabolism, dispel the toxin and moisture which were stored in your body.
2). The detox foot patch absorb toxins and waste oil out from the vola, after using one night, you can see the foot patch changed into brown or black color. You can see the black oily toxins by your eyes!
3). Improve sleeping quality, relieve fatigue, help solve astriction problem, help solve halitosis, keep fit and slim.
4). Remove toxin, purify blood, clear body odour and foot odour.
5). Dispel internal moisture, relive stress on the foot and joint.
6). Replenish vital essence, activate cells, lighten your skin, and slow the aging process.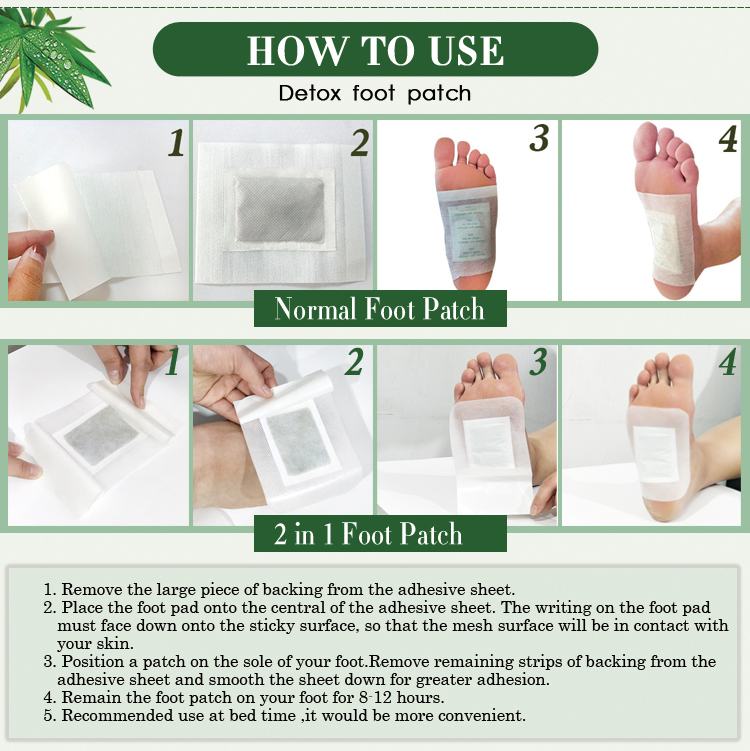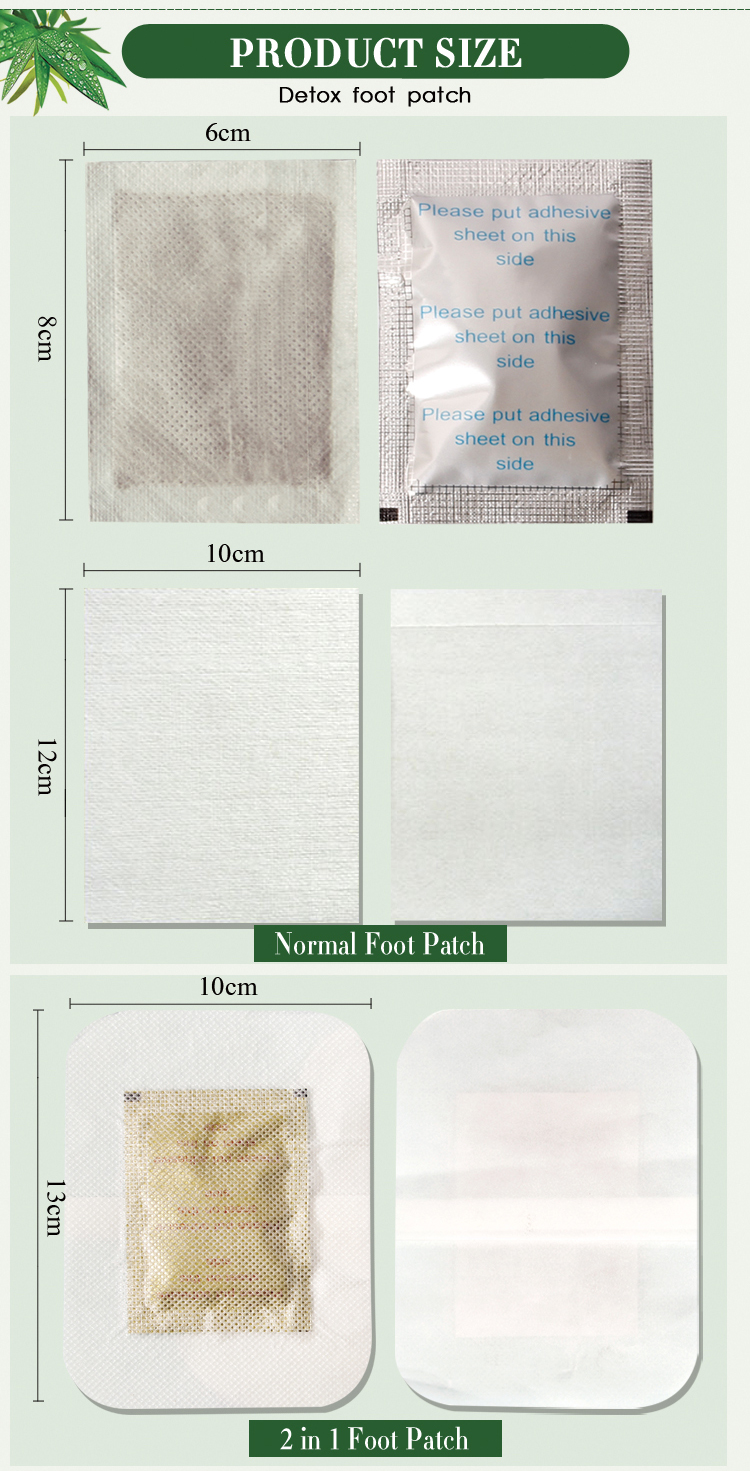 product cotegories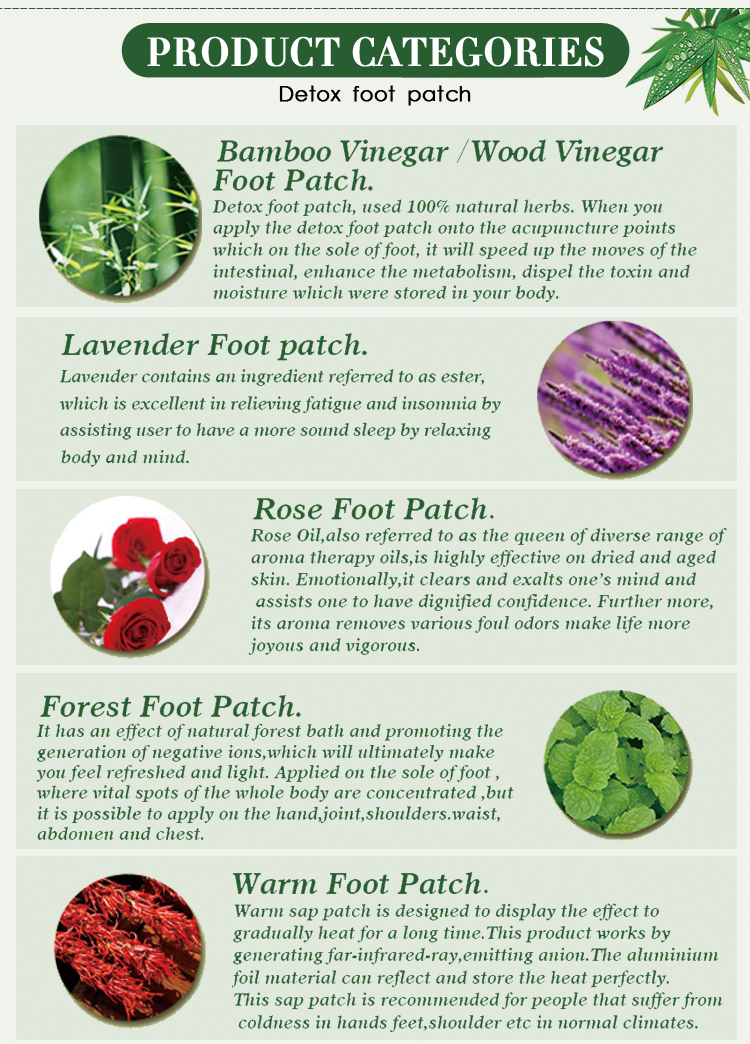 Suitable for use:
1). The people who love beauty and slim
2). The people who have health problem such as: Astriction, halitosis, body odour, foot odour.
3). Semi-healthy people.
4). The people who use computer for long time
5). The people who have big working pressure
6). The people who stand or work for long time
7). The people who is suffering neck, shoulder, waist pain
8). The people who has leg or foot pain and swelling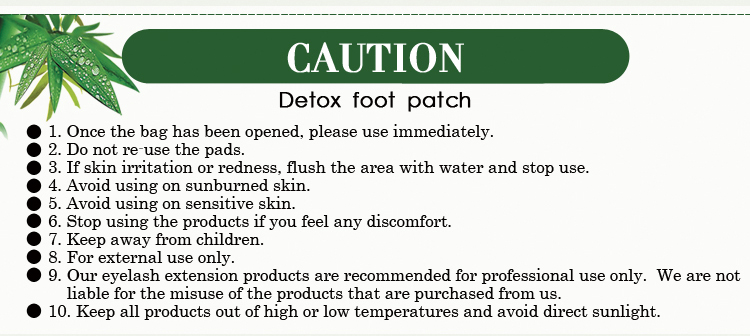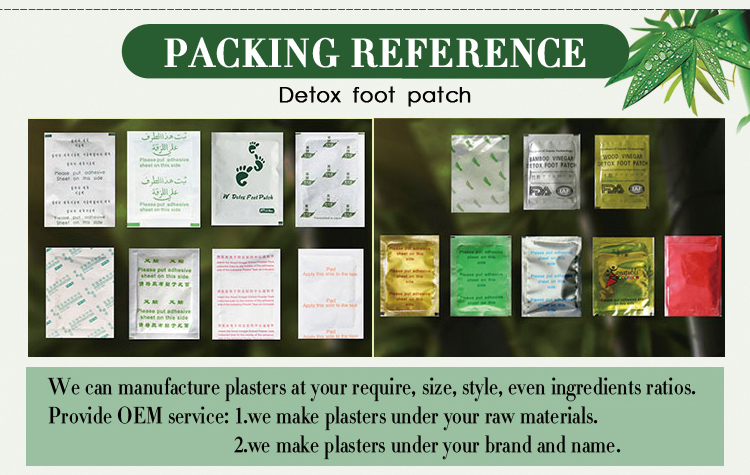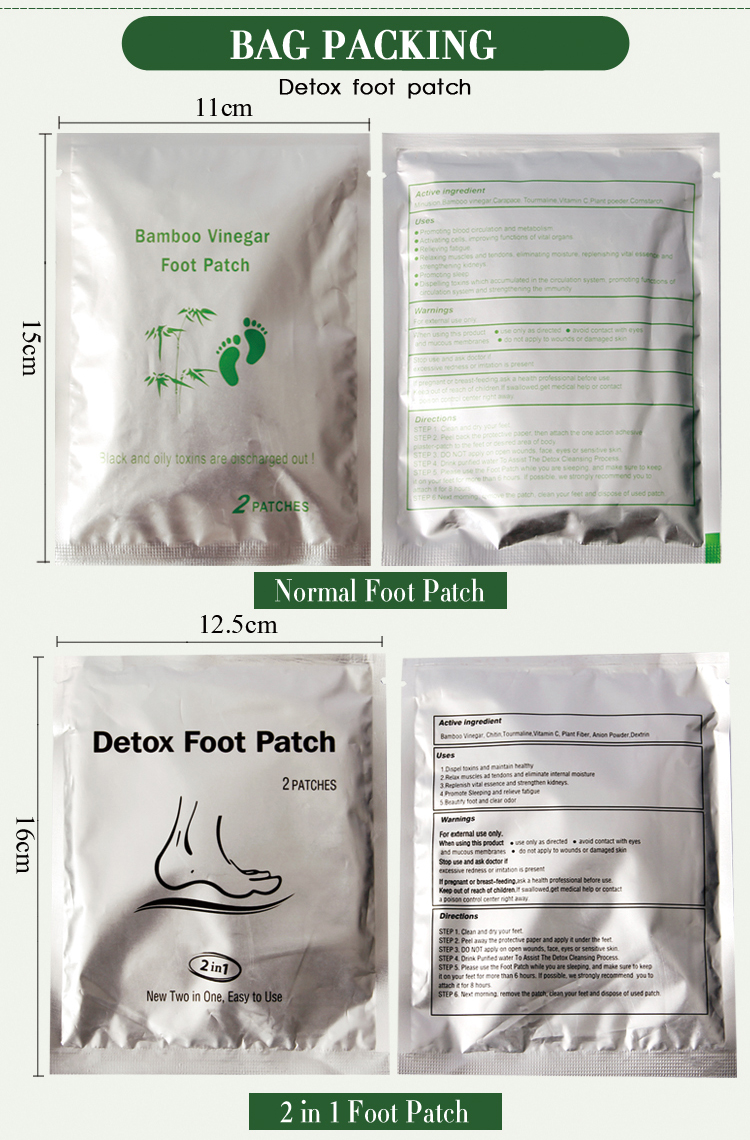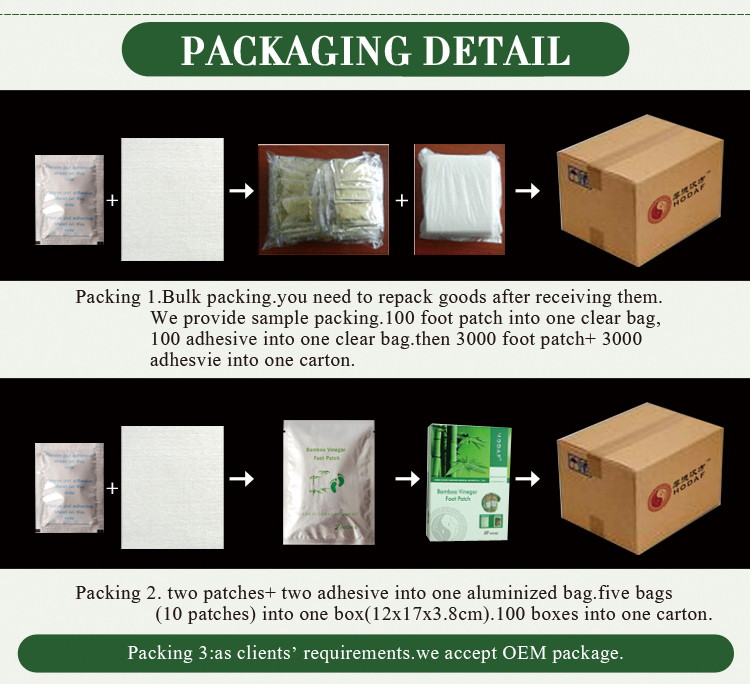 Packing: in bag
1). Put 2 patches into one 12x15cm transparent bag;
2). Put 50 transparent bags into one bigger transparent plastic bag, as a parcel; 3). Put 20 parcels into one carton.
Our company:
We, Hebei Houde Hanfang Medical Devices Co.,Ltd, is one of top health care patch and plaster producers in China. We are the professional manufacture of kinds of patches , such as foot patch, slimming patch, heating patch and chinese herbal patch, etc .
We have the certificate of ISO, CE , SGS , DGM , MSDS and FDA, etc .
We have been 'Gold supplier' in Alibaba for 6 years.
We have production line with production Capacity 200,000 pcs per day.